If you're a physician applying for work in a hospital or medical practice, you'll need to be aware of two important processes that determine your eligibility to practice medicine there: credentialing and privileging. As well, no matter where you work, acknowledging and fulfilling your licensing and membership obligations is critical to not only your own protection and success, but also to the protection and level of care your patients receive.
To make sure you know what professional obligations to expect we've outlined each one in more detail below.
---
Licensing and Memberships
Physicians practicing medicine throughout Canada must acquire certain licenses and/or memberships with organizations in their province or territory. Obtaining some of these may take up to a few months, so it's important to start right away.
If you're a new doctor, you need to get your independent practice license. Having this license is what officially authorizes you to practice unsupervised medicine in your province. It's what allows you to diagnose and treat patients, order investigations, obtain and write prescriptions and essentially practice medicine.
For further details on how to get your Independent Practice License choose your province below.
As a physician, high performance in your education and service delivery are expected of you over the course of your career. To achieve this, professional obligations exist for all physicians once they start to practice medicine. Professional associations can help you understand these obligations, and below are the mandates of two national medical associations which can do so.
1. College of Family Physicians of Canada
The College of Family Physicians of Canada is the professional organization responsible for establishing standards for the training, certification, and lifelong education of family physicians and for advocating on behalf of the specialty of family medicine, family physicians, and their patients. The college accredits postgraduate family medicine training in Canada's 17 medical schools.
2. Canadian Medical Protective Association
The Canadian Medical Protective Association offers medical-legal advice and assistance, and professional development to its members throughout their medical careers. This can help you provide safe care to your patients, manage the risks in your practice, and be knowledgeable about your obligations.
Likewise, it's also worth joining your province's medical association as they act as the official voice of medical professionals in your province and are a division of the Canadian Medical Association. They are responsible for negotiating with the government on behalf of physicians in your province. Keep in mind that while this is optional (in most provinces, but mandatory in Ontario) you might benefit from what they offer. For example, they help with compensation programs, reimbursement for a portion of you CMPA due, CME and retention benefits and offer financial services such as insurance and investing.
Medical Associations Per Province
---
Credentialing
Credentialing is the assessment and confirmation of a healthcare provider's qualifications. It's an important contributor to your ability to provide services to patients, as it protects them from unqualified physicians.
Credentialing involves the verification and documentation process that confirms 1) your identity, and 2) that you have all of the requirements necessary for membership or a position in a specific healthcare organization. These requirements include training or education, qualifications, background, experience, skill, professional references, malpractice history, licenses, and certifications or credentials.
To ensure a positive experience and minimize issues with credentialing, keep these things in mind:

Start early
Find out the approximate time frame to complete credentialing at your organization and ensure you have allowed for an extra month or two, just in case of delays in the process. If you're starting a new job, ask them what you can expect and what credentialing system they have in place.
Pay attention
Many physicians fail to include required information on their applications, such as work history and current work status, malpractice insurance details, hospital privileges (more on this, below), and references.
Get informed
Know your province's and health authority's regulations – these will differ across the country.
Credentialing is a prerequisite to privileging. When credentialing is completed, your next step is to apply for privileges.
---
If you have your own medical practice and hire other physicians you need to ensure that they meet all the professional obligations outlined above.
---
Privileging
Privileging is the process by which an applicant is granted legal authorization by a health authority to provide specific, defined types of medical services, procedures, or treatments for specific conditions within specific facilities or programs of the health authority (that is, you will need privileges granted for other, even similar, variations of these things).
If you're planning to work in a hospital (or other hea
lth authority facility or program, such as residential care), you need to apply for privileges. This is according not only to the provincial or territorial legislation and regulations about renewing, restricting, and terminating privileges, but also to the associated procedures normally set out in the bylaws of that particular hospital, facility, or program. Bylaws and rules are established to maintain high, consistent standards for the qualifications and competency of healthcare providers across Canada.
Privileging typically falls into three main categories:
Admitting privilege allows a physician to admit patients to the hospital.

Courtesy privilege allows a physician to occasionally treat or admit patients at the hospital.

Surgical privilege allows a physician to perform outpatient or operating room surgeries.
Applications for hospital privileges are made directly through the hospital. You should inquire with the hospital you intend to work for about their application process. Typically, a hospital administrator will assist you with the application. Once you apply, the hospital reviews your information and can approve and grant you the privileges to practice there. Since privileging is such a lengthy process, you should begin the process as soon as possible after you sign a job offer letter – it's important to keep the time frame and process in mind.
In general, you'll need to apply with photocopies of the following credentials:
Medical licenses

Malpractice certificates

Immunization records

CV (resume)

Certificate of Good Standing

Certificate of Adult Criminal Convictions
There are different privileging resources and systems available for physicians across Canada. For instance, a standardized online credentialing and privileging system (called CACTUS) is in place for all health authorities in BC.
Thankfully, privileging includes processes created to ensure physicians are entitled to certain rights regarding changes to their privileges. For example, doctors generally have a right to not have their privileges fundamentally changed without due process as afforded under hospital bylaws and as confirmed by the courts.
---
The CMA's take
The Canadian Medical Association makes some recommendations regarding credentialing and privileging to governments, regulatory authorities, regional health authorities, and medical staff structures within regional health authorities and hospitals:
The application of standardized credential templates must consider the quality of care being provided by the physician and circumstances such as medical and hospital resources available locally and the timeliness of proximity to secondary and tertiary care.

The process of granting privileges respects the following principles:

All processes should be fair, equitable, documented, and transparent and should protect confidentiality.

Criteria for reappointment should be clearly specified in medical staff bylaws and should be no more onerous than necessary to verify the ongoing provision of quality care by the medical staff.

A regular evaluation of appointed physicians should be conducted by the appropriate clinical chief.

The quality of a physician's care is the most important criterion to be considered at the time of appointment, reappointment, and the granting of privileges.

The information required for granting appointments, reappointments, or privileges or for the allocation of medical resources must be accurate, valid, and appropriate.

The processes of granting appointments, reappointments and, privileges and allocating resources should recognize and accommodate the changes in practice patterns that may occur over the medical career cycle.

Physicians with established community practices have a significant investment in their practice and the community and this investment should be considered at the time of reappointment or change in privileges.

A recommendation, without just cause, to withdraw an appointment, to restrict privileges, or to significantly reduce resources available to a physician must include appropriate compensation based on individual circumstances.

The reporting of legal actions or disciplinary actions as part of the reappointment or reappointment process should be restricted to those matters in which a final determination has been rendered and in which there has been an adverse finding to the physician.
---
---
Although in some cases privileges are getting replaced with employment or contractual agreements between physicians and hospitals, you need to understand how credentialing and privileging (or the equivalent) is handled by the organization for which you choose to work. Equally important is knowing your licensing and membership obligations, both within the province or territory you work and also nationwide. All of these things will help protect and set you up for success, while your patients are also protected and enjoy a high, consistent quality of care.
This article offers general information only and is not intended as legal, financial or other professional advice. A professional advisor should be consulted regarding your specific situation. While information presented is believed to be factual and current, its accuracy is not guaranteed and it should not be regarded as a complete analysis of the subjects discussed. All expressions of opinion reflect the judgment of the author(s) as of the date of publication and are subject to change. No endorsement of any third parties or their advice, opinions, information, products or services is expressly given or implied by RBC Ventures Inc. or its affiliates.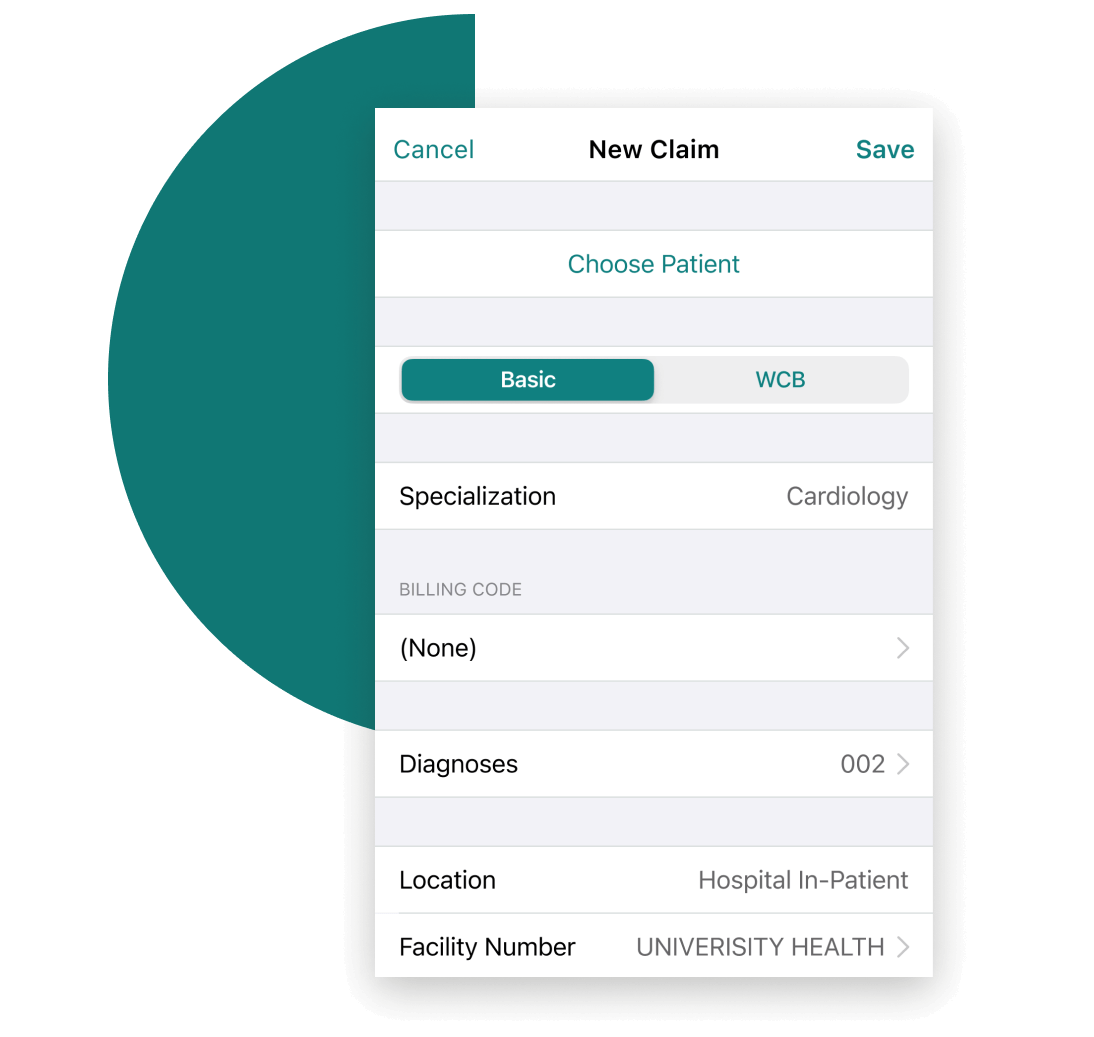 Solutions Designed For The Unique Needs Of Your Practice
Get a $150 Credit when you sign up for Dr.Bill*. No credit card required.
Learn More