Whether you're a new grad or simply new to the province, billing for the services you provide can seem like a confusing process. We're here to help – follow the steps below to get started.
How to Register for OHIP Billing
Get a billing number by registering with the Ministry of Health
Register for a GO Secure Account
Register for Medical Claims Electronic Data Transmission (MCEDT)
Quick Tips: What you need to know about billing OHIP
Important: learn the OHIP billing codes for your specialty. Knowing when and how to use each code is vital to ensuring that you get paid correctly for your services.
This will also help reduce the number of rejections, reviews and resubmissions that can happen when billing OHIP. See the list of OHIP error codes and learn about common rejection issues.
Be aware of cut-off dates for claim submissions.
OHIP claim submissions run on a monthly cycle. All claims you submit until the 18th of each month will be processed for payment by the 15th of the next month.
It's recommended that you submit your claims daily so that you never have an issue with deadlines. See the list of OHIP cut-off dates.
Stay up to date
Staying current with changes to the OHIP SoB are important for health care professionals as these updates will affect some physicians' billing habits and claim payments
What Process is the best?
Decide on a system for keeping your claims in order.
The Canadian Medical Association reports that that the average physician fails to bill for at least 5% of the insured services they provide.
By missing claims you'll be leaving money on the table, so they recommend using a smartphone or tablet app that captures the services that you deliver.
Determine how you're going to manage submitting claims to OHIP.
Will these be handled by your hospital / group, a 3rd-party billing agent or will you be managing your own billing?
Set yourself up for success now to avoid headaches down the road, which will help ensure that you get paid correctly (and on time).
Free OHIP Billing Resources
General Tips & FAQs
The deadline for submissions is the 18th of each month (or the next business day if it falls on a weekend/holiday)
Claims received after the submission deadline may still be processed for the current cycle
Providers must submit claims within 3 months of the date of service
The majority of billings are first assessed through a computer system – around 20% get sent to Claims Assessors to be manually checked
Claims that go into manual review may need extra documentation to get paid
Paid claims will be shown on your Remittance Advice (RA) report
Rejected claims will appear on the Claims Error report or the RA report with an explanatory code. You must resubmit these claims
New to Ontario Billing?
Check out our free Ultimate OHIP Billing Learning Guide that takes you through every step for billing successfully in Ontario.
What you'll learn
How the OHIP claim submission process works
How to apply for your OHIP billing number
Which additional registrations are necessary to start billing in Ontario
How to maximize your billing and minimize rejected claims
Most commonly-used codes by specialty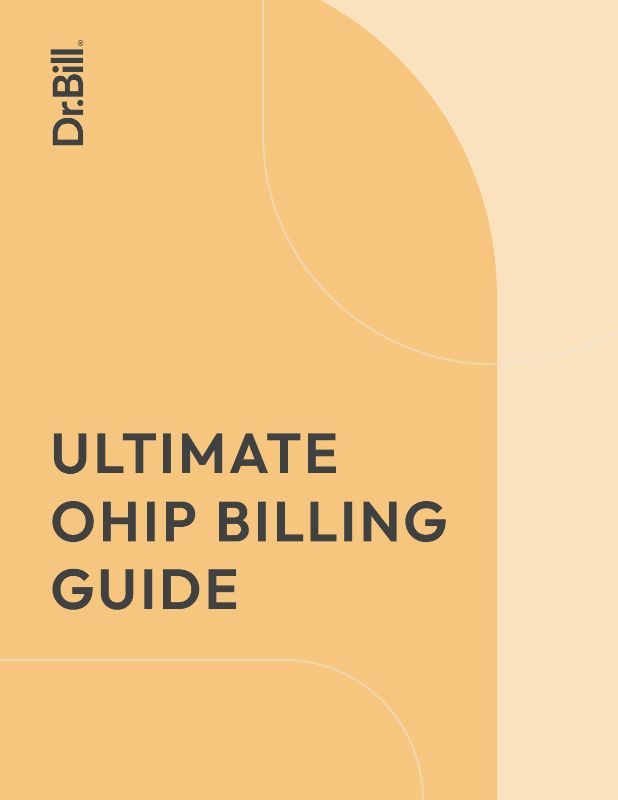 Download the Ultimate OHIP eBook
The Ultimate OHIP Billing Guide
Get the e-book