Regular exercise. A healthy diet. Quality sleep. Physicians understand better than most the value in prevention for better health and wellbeing.
When it comes to physician burnout though, "prevention" presents a particular challenge. That's because many of the factors currently contributing to burnout are system-based and therefore unalterable at the individual physician level:
A heavy administration/documentation burden
Grueling schedules that start in residency
Inadequate payment models
Physician shortages
Domino-effect pandemic pressures
The promising news is that system-level changes are in the works in many provinces that are designed to address these burnout drivers.
A sampling of the early signs of change? British Columbia and Nova Scotia are just two of the provinces already providing reimagined compensation models for family physicians. BC is welcoming increased numbers of international physicians while Canada is also making it easier for international doctors to gain permanent residence. In Ontario, the OMA Burnout Task Force has proposed 5 transformational solutions to address physician burnout at the system level.
How to Keep Physician Burnout at Bay Now
System-wide transformation will take time; however, physicians can still implement individual strategies to prevent burnout today. Here are a few proven tips:
1. Stay fiercely protective of your personal time
Having enough time to recharge is crucial because you can't give your best at work when you're low on energy, mental acuity or empathy.
Draw hard boundaries around your personal time—setting rules such as never touching work on your days off, never staying at work more than one hour late or never sacrificing your family dinner time for more work time.
It's too easy for work to consume the lives of physicians because there is always more to be done—especially with Canada's critical physician shortage. To prevent burnout, prioritize whatever nourishes you personally and stick to it with unwavering rigidity.
2. Delegate and outsource
At work, focus on your core role as physician and work collaboratively with nurses, MOAs, residents and other colleagues so you don't end up taking on too many duties that could be handled by someone else on your team. Data entry, billing and admin are typical duties you could be unnecessarily spending too much time on.
At home, many busy doctors find that spending a little more to outsource household tasks is a worthy investment. Common tasks to outsource include:
House cleaning
Snow removal
Lawncare
Grocery shopping
Home maintenance
Meal prep
Dog walking
Outsourcing just a few of these tasks will free up several hours every single week that you can spend on more fulfilling priorities.
3. Batch your tasks
Physicians are inundated with referrals, lab results, EMR alerts and more throughout the day. Tending to these items as they crop up is tempting—but it derails your day and overloads you with too many priorities at once.
For non-urgent tasks, choose one or two times each day to address like items all at once. Return all emails, refill all prescriptions, etc. Not only should this batching approach save you time, but it will keep you more present with patients.
4. Be your most important patient
Just as you would advise your patients, you too need to prioritize adequate rest, nutrition and exercise. Consistent self-care is one of the most proactive ways to prevent burnout (yet can easily be the first thing to go when we're stressed!).
With on-call schedules and fluctuating workloads, physicians may need to get creative to fit in these basics at times. Some proven tactics include booking calendar time for meals and the gym, staying rigorous about sleep hygiene (even on an irregular schedule) and prepping large batches of healthy meals for the week or trying healthy meal delivery services.
It's natural for physicians to put others first, however, staying "selfish" about your own basic needs is actually "selfless" since doing so helps ensure you stay physically and mentally healthy enough to continue serving your patients. 
5. Bring work home—or don't
Some physicians prefer the flexibility of bringing certain admin duties home, while others resent the intrusion on personal hours. The "best" practice here is the one that creates the best work-life balance for you.
If doing a reasonable amount of work at home is preferable to spending extra hours at the hospital or clinic, go for it.
Conversely, if you prefer to draw a hard line between work and home, then you should do so. Many physicians schedule blocks of time for duties like documentation, prescription refills and lab follow ups to reduce or eliminate the need for after-hours admin work.
6. Use technology to save time
If you can maximize your use of Practice Management Software, telemedicine, billing software, your EMR and other tech tools, you'll save months or even years of cumulative time over the course of your career! Wherever you have a manual or inefficient process in place, ask yourself if technology could improve it.
Even where you have tech solutions in place, you may not be optimizing your use of simple shortcuts, additional features or interoperability. Don't be shy about reaching out to tech providers to ask about customization or to get walkthroughs of advanced functionality. If you feel a particular system is slowing you down, research to see if a more robust solution may be available.
For instance, a mobile billing solution like Dr.Bill is designed to beat billing-induced burnout by allowing you to bill on the go in seconds right after each patient so billing never piles up.
7. Keep learning and set goal
Some experts suggest physicians who set goals for their career or practice are more engaged, motivated, and satisfied with their work. While we typically associate burnout with stress and overwork, boredom with the routine nature of many practices can also be a core reason for burnout.
You may wish to take additional certifications, pursue a new subspecialization, join a hospital board or start that side hustle you've always considered. (According to Medscape, approximately 30% of physicians in Canada report engaging in a "side gig" on top of their primary medical job.)
Keeping yourself challenged and engaged through continuous learning and goal setting can help you maintain that spark that keeps you inspired to practice medicine. 
8. Know the early signs of burnout
Burnout doesn't happen all of a sudden—it creeps up over time and often inconspicuously. When you stay mindful of the earlier signals, however, you can intercept burnout before it takes hold. Early signs of burnout can include:
Fatigue or feeling "drained"
Irritability
Deprioritizing self-care or personal activities
Feeling diminishing work or personal satisfaction
Working longer hours to keep up
Unexplained physical symptoms (such as headaches, digestive issues, dizziness, sleep issues)
With longer-term burnout, the above symptoms may become more severe or you may experience additional signs of burnout, such as depersonalizing medicine, making errors, using substances to cope, depression and suicidal ideation.
Where to find additional support
While doctors can take steps to prevent and manage burnout individually, it shouldn't be a solo journey. The CMA offers a vast library of physician burnout resources:
Support for residents and independently-practicing physicians
System-level burnout proposals
Colleagues sharing stories of burnout recovery
Peer-to-peer connections
Building a culture of physicians taking care of themselves
It can be challenging to prioritize your wellbeing in a work environment where burnout is the normalized baseline. By implementing prevention strategies, you're not just taking care of yourself, but influencing others to do so as well, thereby contributing to changing the culture for the better. See 7 more strategies for preventing burnout from Dr. Nour Khatib, ER physician and wellness advocate.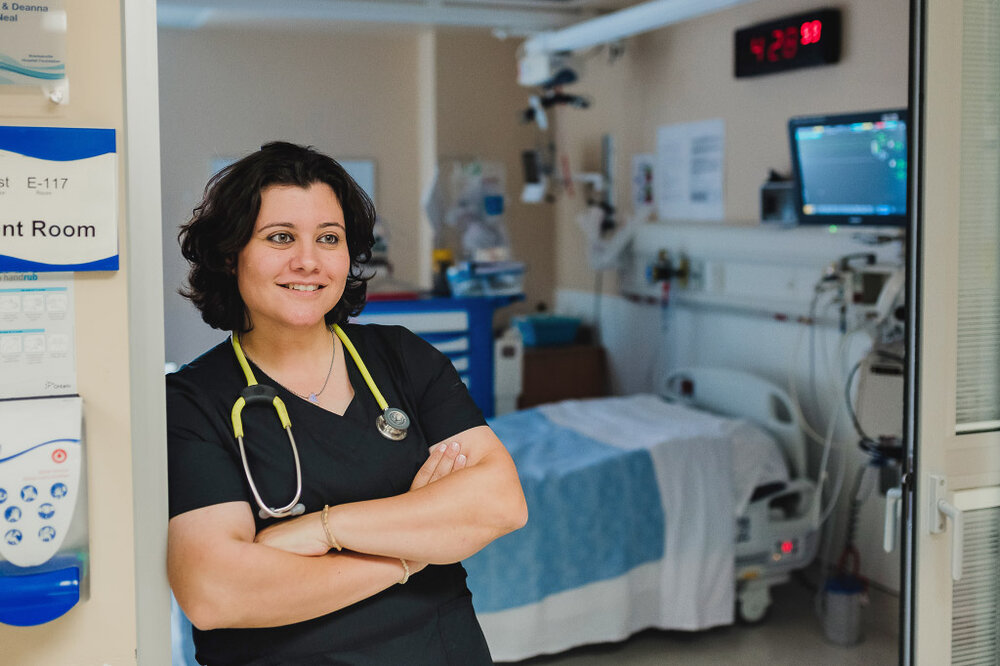 Additional Reading
Women in Medicine Feature: Q&A With Dr. Nour Khatib
Read more
Dr. Nour Khatib left medical school for a finance career, but a persistent calling encouraged her to return years later and become an emergency physician.