New to practice and looking to choose the best medical billing software for your needs? We're so pleased you're considering joining more than 8,000 happy doctors who use Dr.Bill to save time and get paid accurately.
Here we've assembled the ten most common questions we receive from new physicians about our medical billing software. Have a question I haven't covered here? Contact us and we'll respond within one business day.
1. Who is Dr.Bill?
Dr.Bill is a secure mobile medical billing software solution for physicians working in Ontario, B.C. and Alberta.
We've modernized medical billing to eliminate time-consuming paperwork, code lookups and manual data entry. With Dr.Bill in your pocket, you can see patients and bill throughout the day quickly and easily.
Behind the scenes, we are a team of more than 80 people you can rely on to provide billing support when you need it, stay connected to Ministry guidelines and constantly improve Dr.Bill to work harder for you.
2. How does your medical billing software work?
Dr.Bill gives you the freedom to bill securely from your smartphone in seconds—without the need to memorize thousands of billing codes and rules.
Simply use our iOS or Android App to snap a picture of your patient label, and tap drop-down menus to enter the details of your claim. It's that simple.
Physicians who have admin support or who would rather do all billing at the end of the day may prefer to use the desktop version of Dr.Bill.
When you choose our Comprehensive plan, Dr.Bill will also remedy and resubmit rejected claims on your behalf to ensure you're getting paid accurately for your work.
3. How much does medical billing software cost?
Dr.Bill has no upfront cost, no minimum use commitment and no cancellation fees.
You simply pay a small per-claim percentage on successfully paid claims. That means we only get paid if you do!
Check out our different pricing plans here.
4. Does Dr.Bill support my specialty?
Yes! No matter what your specialty is, you'll find billing fast and easy with Dr.Bill:
Physicians with specialties that don't offer a "home base" office (who travel to multiple locations or from patient to patient in a hospital setting, for instance) enjoy the portability of Dr.Bill because their billing moves with them.
Physicians with specialties that allow them to work primarily from an office appreciate that they can toggle seamlessly between the app and desktop web version of Dr.Bill.
Locum tenens physicians can keep billing all in one place, rather than switching from system to system with each new contract.
For every specialty, Dr.Bill stays current on fee codes, modifiers and Ministry updates to support uninterrupted billing.
If you have multiple specialties, you can add them to your profile so you can easily bill under the relevant specialty every time.
View specialty-specific fee codes and values by province:
5. Is Dr.Bill hard to learn?
Dr.Bill is so easy to use, you can start billing successfully right away—with drop-down menus that guide you through claims intuitively. Our Customer Success Team can also provide a guided tour through our platform. Once you've saved your favourite settings and have a few claims under your belt, you'll be submitting claims in seconds!
When questions do come up, our team of province-specific billing experts can answer them for you via in-app chat.
Robust technology plus unlimited human support not only help you breeze through billing, it's a combination that gives you confidence that you're billing all the codes that apply for every visit or procedure—and therefore getting paid accurately.
Want to learn more about the basics of medical billing in your province? Our Ultimate Billing Guides are a great way to get an overview:
6. How does Dr.Bill keep data secure?
The security and privacy of patient and physician data is vital.
Only employees who require access to health information to facilitate Dr.Bill services can access the patient information collected through Dr.Bill's services. We have strict privacy policies, keep detailed access logs, conduct regular audits and use secure encryption to protect the information.
If you use the Dr.Bill app and happen to lose your phone, don't worry. Contact us and we can block access to the app and get you set up securely again.
Learn more about our commitment to the privacy of our physicians and their patients.
7. How does Dr.Bill manage rejected claims?
Our top priority is to ensure you're paid accurately for your work. If you're on our Comprehensive plan, we'll automatically correct and resubmit rejected and refused claims on your behalf.
If we require further information from you to correct a claim, we'll reach out to you for clarification first before resubmitting your revised claim. When we need your input, you'll see a notification from us under "Billing Issues" on the top right of the app.
With Dr.Bill, you can always see the dollar value of your successful claims, along with the value and status of claims we're working on recovering for you.
8. How do I track and receive my payments?
Tracking Your Claims
How much you're earning should never be a mystery. Dr.Bill keeps you connected to your income at all times with your paid and pending claims available in real time. Rich reporting features make it easy to dig deeper into your claims at any time.
Receiving Ministry Payments
Dr.Bill submits your claims daily and you get paid directly through your Ministry of Health via cheque or direct deposit. Ministry payments occur weekly in Alberta, twice monthly in B.C. and once monthly in Ontario.
9. Can Dr.Bill help with Ministry registration paperwork?
We are seasoned experts in helping you complete the right documentation and connect your credentials to your province's Ministry of Health (and other agencies such as Worker' Compensation and Telehealth). Typical Ministry connection times vary by province:
| | |
| --- | --- |
| Province | Connection Time |
| Ontario (OHIP) | 1-2 business days |
| B.C. (MSP) | 7-10 business days |
| Alberta (AHCIP) | 10-14 business days |
Regardless of wait time, you can start inputting claims with Dr.Bill right away, even while your paperwork is in progress at the Ministry's end. We will submit any accumulated claims for payment as soon as the connection process is complete.
10. What can Dr.Bill do that my EMR can't?
Today's EMRs are incredibly powerful platforms for managing patient care. While many EMR solutions allow you to send claims to the Ministry, they typically come with some limitations, which is why many doctors choose Dr.Bill to complement their EMR:
Dr.Bill is mobile and moves with you
Physicians who move from patient to patient can bill as they go rather than keep notes between trips back to the desktop-based EMR to be manually entered later (which increases the risks for errors and missed claims).
We know billing inside and out
EMRs are built to manage patient charts, scheduling, forms and more, but their primary purpose is not to optimize your billing. Dr.Bill's entire focus is making billing faster for you and maximizing your paid claims.
We remedy and resubmit rejected claims
EMRs don't come with a team of billing experts! Dr.Bill decodes rejected and refused claims to turn as many of those into paid claims as possible.
Ready to start your practice with Dr.Bill?
Get started with a $150 credit on our Comprehensive Plan or book a demo to see Dr.Bill in action.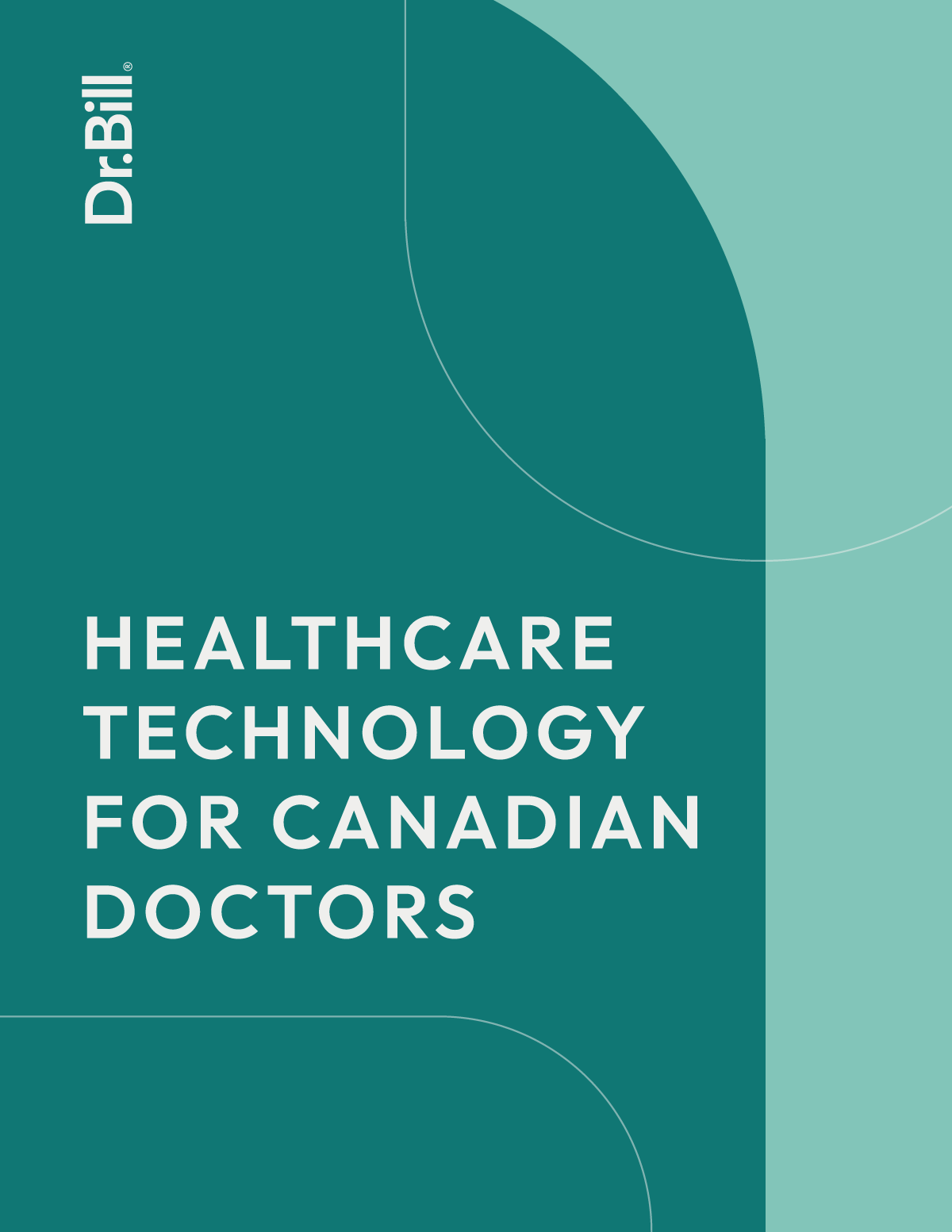 Read Our Latest eBook
Healthcare Technology for Canadian Doctors
Get the e-book