Locum tenens is when you temporarily substitute, to either replace a physician (like a substitute teacher), or to help with patient overflow. Depending on your contract and where/who you're substituting for, your locum position could span a number of days, weeks or even up to 6 months.
Literally, the term 'Locum tenens' is a Latin phrase meaning "to hold the place of," which is also the perfect job description for what you'd be doing.
Whatever your background, chances are if you've landed on this page you're thinking about trying locum work or you want to know how to find the best job and get started. In this article we outline:
Who Should Consider a Locum Tenens Position?
Conventionally, locums are quite common for physicians who are in their first 5 years of practice, or for physicians who are near retirement. But this mindset is changing and many physicians are choosing locum work for the better work-life balance it offers.
For example, it's a great option for young families who want to focus more on their home life than their work life.
It also offers a variety of different practice experiences, which means not only are you less likely to get stuck in a rut, you're using all your skills all the time. Best of all? Locum positions are in high demand, which means there's no shortage of jobs.
So, who should actually consider a locum job?
If you haven't worked as a locum before, it's definitely something to think about, even if only as a side-gig to earn a little extra cash. Generally though, if you're easy going and enjoy new experiences, then this might be the perfect fit for you.
The Pros and Cons of Locum Tenens
Here are some of the best benefits of working as a locum:
The Pros
Test Drive a Practice: It's the best way to trial out a practice before committing to a permanent position.
Pick your hours: As a "freelance" doctor you have flexibility and control over your schedule. This means you can be as busy or as free as you want to be. If you need 2 weeks off, just block them off on your calendar!
Minimal Administration: you do not have any of the responsibilities that come with running a practice (hiring/firing MOAs, ordering supplies, etc.).
Travel & Work: It's a great way to travel around the country while not losing valuable practice experience.
Earn extra Money: Pick up some extra clinic shifts or work evenings. Locum work is a great side-gig.
The Cons
Obviously, there are some downsides, so if you're really thinking of working as a locum consider its pitfalls and judge for yourself if the cons outweigh the pros.
Things to be mindful of:
Unknown Patients: Constantly seeing patients who are unfamiliar to you means it will take extra time to familiarize yourself with the patient during a visit.
Unknown Colleagues: This goes for co-workers and office staff too, you'll be constantly introducing yourself and getting to know different personalities and following new workflows.
New Systems: Each new place also comes with potential new EMRs, passwords and electronic things to consider.
Finding New Gigs: Understandably, one of the biggest fears is finishing a job and not having another one lined up.
The Takeaway:
To survive in the locum world you'll need to be quick on your feet and adaptable. If you're open to change and have a positive attitude then it will be easy to keep job contacts and stay in demand.
We spoke to Haneen, one of the co-founders of Locumunity (a popular job site for locum work), and she told us that the demand for locum work is so high that worrying about finding new gigs shouldn't even be on your radar.
Once you've made contacts and started working at different places you can essentially book yourself in advance for more than a year!
How to Find a Good Job
Since demand is high, this also means that there's going to be some less than desirable offers floating around. In order to find you a good job, before you start applying, make sure you spend a bit of time planning. Once you know what you want, don't settle for anything else.
Figure Out What You Want …
Don't worry, this won't take long, just think of the ideal conditions you'd like to have and write them down. Then, when you're applying for jobs, make sure you only apply for jobs that fulfil at least most of your expectations.
For example, your list may look something like this:
In a city
At a clinic
No "on-call"
No weekends
Recommended Sites for Job Hunting:
Locums Ontario lets you filter jobs by specialty, location, date range, EMR system, and compensation type.
At Locums.ca you can search through a variety of jobs (permanent, clinic/hospital shifts, locum tenens, etc.). They only post up-to-date matches and have some interesting opportunities!
Negotiating Contracts
Once you're given a contract the next step is to go over it and see if there are any areas you might want to negotiate.
You are allowed to negotiate and its common practice so we highly recommend getting into the habit of it.
Every recruiter and doctor we speak to emphasizes that you're in demand, to remember to ask for what you want, and that everything is negotiable.
Again, Haneen (from Locumunity) recommends always asking about the following 3 things before accepting any job offer:
Dates/hours of coverage, and whether it includes any hospital patients or on-call.
Rate of compensation, as this may vary for different types of work (e.g. private forms vs. patient visits).
Have a contract that clearly documents the above, and clearly states the clinic is responsible for any follow up necessary on tests/referrals made while you are there.

Setting Up your Payment System  
Oddly enough, one of the main components that's sometimes gets neglected by new locums is setting up the paperwork in order to get paid. Some locums leave this until the last minute or don't fill out the appropriate forms, which may result in a pay delay.
Remember, one of the most important things to determine when you sign your contract is the rate of compensation.
While sometimes you might be paid directly through the clinic, most of the time you'll be working Fee-For-Service, since most doctors are  "self-employed." Luckily, the latter is better if you're looking to maximize you're earnings and bill on the go.
This is where we can help: Here at Dr. Bill we've spent a lot of time figuring out how to make doctors' lives better by making billing easier.
With our software you can add a patient in 3 seconds and a claim under 30; all from your smartphone.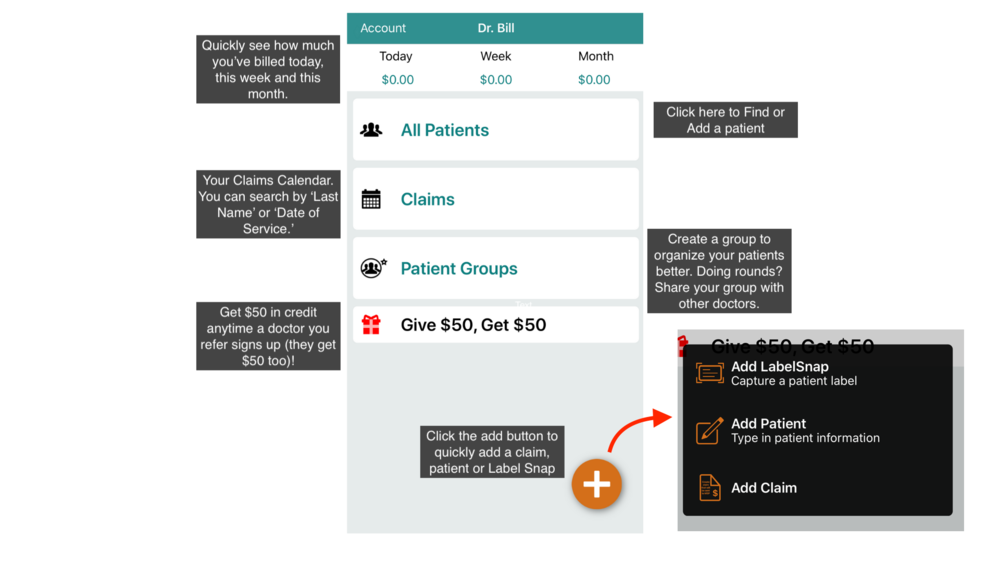 If at any time you need help determining how to sign up to bill for your locum work, don't hesitate to contact us. Otherwise, if you're looking for billing guidance check out the following in-depth guides on how to submit claims for refurbishment:
The Bottom Line…
If you can picture yourself working the locum life, you should definitely give it a try. The worst-case scenario? If you don't like it, just don't do it again!
If you want to learn all the ins and outs of locuming check out our Ultimate Locum Guide.
This article offers general information only and is not intended as legal, financial or other professional advice. A professional advisor should be consulted regarding your specific situation. While information presented is believed to be factual and current, its accuracy is not guaranteed and it should not be regarded as a complete analysis of the subjects discussed. All expressions of opinion reflect the judgment of the author(s) as of the date of publication and are subject to change. No endorsement of any third parties or their advice, opinions, information, products or services is expressly given or implied by RBC Ventures Inc. or its affiliates.