What is a locum doctor? Locum doctors (short for 'locum tenens') are physicians who fill in for other doctors while they have patient overflow, take leave, or go on vacation. The term 'locum tenens' can be literally translated to 'place holder' — which is essentially what locum doctors do when they step into their temporary role!
As a sort of 'substitute doctor' your work as a locum will give you the chance to see how other practices are run, experience new locations, and see new patients, All of this is a great way to learn about practicing in your specialization, have more flexibility with your schedule, and find more freedom in the way you work.
We recently put together a checklist of things locums need to do or know before they start in their new role:
Researching a Locum Doctor Lifestyle
The short-term nature of locum tenens roles means you have more control over your time. You could choose to work from January to May, take the summer off, then take a new locum role come fall. Since locum doctors are always in demand, there's a lot of room for you to structure your work around your life — not the other way around.
Another benefit of being a locum doctor is travel. Although leaving the province will mean spending additional time on paperwork, physicians are in demand all over the globe.
Although being a locum does have its perks, there are a few downsides as well. In a locum role, everything is new — you'll need to adapt to a new group of colleagues, new technical tools, and new ways to book, see patients, and bill for your time. It can be a steep learning curve, but with enough perseverance and a willingness to learn, you'll be well on your way to a successful career as a locum tenens.
As with any new role, research is everything. While you consider this line of work, you should:
1. Research what locum work looks like in your specialization
What kinds of hours, duties, and patients can locum doctors expect to see?
Where are you hoping to work, and what does being a locum doctor look like there?
2. Decide how much (and what kind) of locum work fits into your lifestyle
Will you be looking for locum work in addition to your 9-5 practice, or instead of it?
Are you hoping to travel?
What kind of work is available for physicians with your specialization in your province, across Canada, and abroad?
What can you hope to earn?
Refine your idea of an ideal locum job into guidelines that can be used to target your job search, provided to recruiters, and used to find your perfect role.
Finding a Locum Tenens Job
Think being a locum is right for you? The next step is to check out the kind of locum positions that actually exist.
3. Look at job postings:
Don't be afraid to put yourself out there! Locum doctors are highly in-demand, so there's a good chance your application will be appreciated.
4. Start the application and interview process
Once you've found some job applications that seem good to you, start your job hunt by putting together your resume and submitting your application.
If you're called in for an interview, make sure you come prepared and ready to both answer questions and ask some of your own.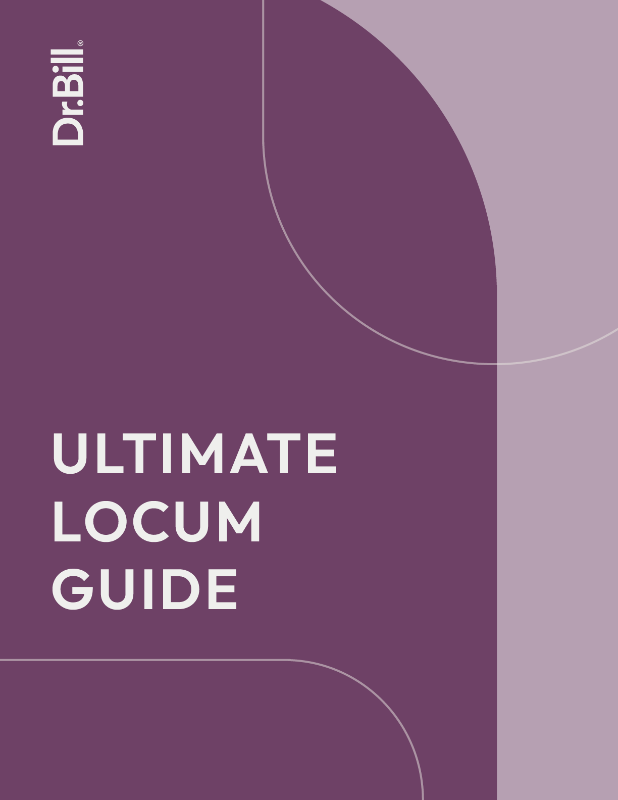 Download the new eBook
Our eBook can help you learn where to find locum jobs, what compensation to expect, which contract points may be up for negotiation and how to bill for your services.
The Ultimate Locum Tenens eBook
Accepting and Preparing for a Locum Job
When accepting and preparing for a new locum role, you should:
5. Prepare and sign a locum doctor agreement
Since you'll be filling in for another physician, it's a good idea to make sure you're on the same page. Create a locum tenens doctor agreement that sets out the responsibilities of the role. This should include:
Instructions for patient follow ups
Payment structure
Office administration (parking spots, access keys, and administrative procedures)
Appointment scheduling
Uninsured patients
Signatures from both yourself and the physician you'll be taking over for
6. Be prepared to perform administrative tasks
Depending on your situation or operational setup, you'll also need to:
7. Get oriented.
Whether or not your new practice has a formal process for incoming doctors, you should take some steps to get prepared for your first day. These include:
Setting a time to do a patient handoff with the existing physician
Introducing yourself to the other physicians and administrative staff in your new office
Obtaining any required keycards/passwords for office or software access
Preparing your billing information and system
Check that you have all the equipment/materials you need in the exam or operating room
Your First Day on the Job
Your first day as a locum is the beginning of an exciting new stage in your medical career. To make sure everything goes smoothly:
8. Don't be afraid to ask.
Direct any questions you have to the right medical and administrative staff. Having questions is a normal part of starting any new job, and writing down any important answers will keep you from having to ask the same question twice.
9. Be ready to learn.
Read over patient files and do research on the previous physician's style of practice, but don't be afraid to trust your own medical practice experience. Prepare any administrative procedures beforehand so you don't have to rush, and be adaptable with your time.
10. Get there early.
Getting to the office ahead of time can help avoid obstacles like lost keys, new passwords, billing setup, or patient information.
11. Introduce yourself.
Sharing your name and saying hello to colleagues, administrators, nurses, and other office staff is a great way to make a good first impression — as well as help you know who the right people are to ask if you have questions.
Whether you're looking at locum doctor jobs for flexibility, travel, or just trying something new, being prepared goes a long way towards having a great locum tenens experience. With everything in place, all that's left to do is jump in!