Being a physician is a big responsibility. That's why it's important to have a quality medical billing software to make managing claims more efficient. If you're a seasoned professional, you know how much time tracking paperwork and rummaging for patient records can waste. A good billing software will free up your time and save you money since you'll be less likely to have rejected or refused claims. If you're shopping around for a better billing software, make sure it has these 5-must have features:
1. Smart Billing Automation
One of the things you want to make sure your software offers is smart billing automation. What is automation? Smart billing automation allows you to add fee codes and diagnoses with only a few taps of a button – while preventing you from making common mistakes. Since it's designed with your province's billing rules in mind, you'll be alerted if you try to bill something incorrectly.

Having a software with smart billing information will help you catch more of your billing mistakes right away – giving you a chance to correct them before submitting your claim. This is especially handy to have for newer doctors, who might be just getting used to which fee codes can be used, and how. However, it's also a great idea even for more experienced physicians since smart billing automation can also help streamline your billing process and save you a lot of time.
2. Add Multiple Patients to a Single Claim

Another factor to consider when choosing a billing software is whether or not it will allow you to add multiple patients to a single claim. Submitting claims individually can be extremely time-consuming, especially if you see many patients for the same service. With the ability to add multiple patients to a single claim, you can bill for all of these patients at once under the same fee code – which can save you a lot of time spent doing paperwork. For example, suppose you're a family doctor primarily providing general assessments. In that case, you can group similar patients you've seen that day into one claim under the same fee code and submit them all at once. This can make a big difference in your admin time, especially if you also can group your patients beforehand and have them selected when you go to bill (like in Dr. Bill!). Submitting claims individually can add hours to your day, so make sure when you're choosing a billing software, you pick one with this feature included.
3. Collaboration Tools

Collaborating with other doctors is key to streamlining your billing process. Other doctors working in your office might have ways to do things faster, have access to information you need, or have duplicate patients or claims. Make sure your billing software meets these needs by choosing one that offers collaboration tools to use within your office, including the ability to create patient groups with your colleagues so everyone in the office can bill for the same patients and share claims. Since you're dealing with sensitive patient information, you should also make sure your software offers a way to share patient data with other doctors securely in a way that can't be easily compromised.
Collaboration tools can make it easy when you're in a setting with multiple doctors who may or may not need the same information or see the same patients. Having collaboration tools included in your software ensures that doctors in your clinic or hospital can share claims, avoid duplicating work, and keep everything visible to your whole team.
4. Transparent Reporting
For many doctors, fee-for-service billings make up the majority of their income – so when you're choosing billing software, it's essential to pick one that shows you detailed reports on all your active claims. Not only will you be able to see everything you've earned so far, but you'll also be able to see any claims currently pending and those that have been rejected. These reports are not just crucial for bookkeeping purposes – they're also a real-time peek into the amount you're going to earn.
Rejected or refused claims can mean a delay in getting paid for a service, or even not getting paid for it at all. If this happens, it's best to find this out as soon as possible, so you can fix the mistake or resubmit the claim. Remember that these billings are your paycheque, and you have the right to know and understand the amounts you're going to earn. Choosing a billing software that gives you open, transparent, preferable real-time reports into your active claims will make sure you know where your money is going and keep your billings from being a 'black box.'
5. Rejection Management
Whether it's due to a simple mistake or a claim that circumvents the rules set by your provincial healthcare body, rejections happen! Managing them yourself can be costly and time-consuming, especially if you aren't entirely familiar with the billing codes and regulations set out in your province's fee schedule. That's why when you're looking at billing software, it's important to choose one that comes with some form of rejection management.
While you might not have time to study your province's fee code guide and all the rules associated with it, there are software options that come with support from billing experts and agents who can help you understand why your claim was rejected or refused and the best way to resubmit. This not only saves you a lot of time and administrative headache but can also help you recover fees that would normally go unpaid. For example, with Dr. Bill, 86%-96% of rejections have been recovered, with over 10,000 claims being paid that would have otherwise gone unnoticed. Choosing a billing software with some form of rejection management is crucial for making the most of your billings and saving you both money and time.
Whether you're working from a small clinic or a large hospital, using the right healthcare technology should save you time, be easy to use, and have all the functionality you need to keep your medical practice running smoothly. By making sure your billing software has the right features, you can help make sure your billing process goes as smoothly as possible – right from the start.
---
This article offers general information only and is not intended as legal, financial or other professional advice. A professional advisor should be consulted regarding your specific situation. While information presented is believed to be factual and current, its accuracy is not guaranteed and it should not be regarded as a complete analysis of the subjects discussed. All expressions of opinion reflect the judgment of the author(s) as of the date of publication and are subject to change. No endorsement of any third parties or their advice, opinions, information, products or services is expressly given or implied by RBC Ventures Inc. or its affiliates.
---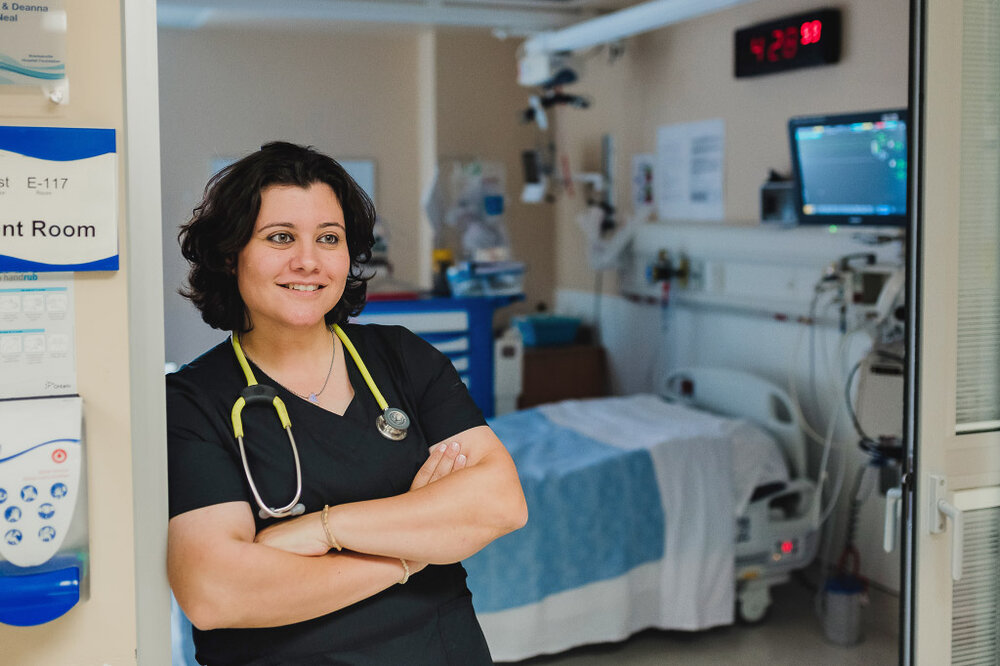 Additional Reading
Women in Medicine Feature: Q&A With Dr. Nour Khatib
Read more
Dr. Nour Khatib left medical school for a finance career, but a persistent calling encouraged her to return years later and become an emergency physician.